Are you up to date with the best social media tips and tools?
Adding new tools into your social media marketing streamlines your workflow and maximizes the return on your efforts.
Here's what top social media experts are using to get results with social media marketing today

Strengthen Connections on Blab
Live-streaming video (Meerkat, Periscope, Blab, Facebook Streaming, YouTube and Hangouts) is coming on strong in 2015. No matter which tool you choose, it's worth investing time in front of the camera with your friends, followers and subscribers to strengthen connections and community.
My favorite video integration platform at this time is Blab, especially since I can run Blab from my browser (it has better camera angles too).
Blab is super-easy to use, and you can interact with three of your tribe, switching out and promoting new folks with ease.
Customize Calls to Action with Sniply


Content curation is a huge part of most social media strategies and I wholeheartedly endorse it. The problem is it doesn't direct traffic back to your own website.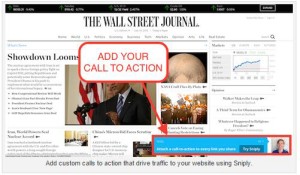 Sniply solves that issue by adding a non-intrusive call to action at the bottom of posts you share.
Use Sniply to promote your website, an app download, newsletter signup, event/webinar registration and pretty much anything.
Sniply is customizable with tons of theme and color options, plus the ability to add a photo to accompany your message.
It also lets you track clicks and conversions through its analytics dashboard to give you the insights you need to determine if your efforts are paying off.
Create Multiple Images for More Pinterest Shares


This feels like common sense to me, but it seems to really amaze people. Plus, it's very effective.
When looking to increase traffic and leads from Pinterest, create multiple images to pin for each piece of content you create. It offers variety, while increasing visibility.
For example, if you have a list article or an ebook with "10 Ways to Run Faster," make a couple of images for the title offer and at least one image for each of those 10 ways.
Create multiple images to pin for each piece of content you create.
Make sure all of the images are in a similar style, so when the pinner converts on the offer, everything is cohesive.
Integrate ClickToTweet Technology for Increased Interaction
The social media tactic that has moved the needle the most for me has been leveraging ClickToTweet technology to interact with my audience at a later point in the sales funnel.
When someone subscribes to my email list, they're redirected to a thank-you page. This page not only tells them more about what to expect from my brand, but also offers a ClickToTweet, which auto-drafts a tweet notifying me that they joined my list. This drives further personal interaction and positive reinforcement from my brand.
I also include a ClickToTweet call to action at the start of webinars. Participants can easily show enthusiasm for the free live training, while spreading the word about it to their networks.
ClickToTweet lets participants easily show their enthusiasm for the class while also spreading the word about it to their networks.
Instead of thinking about how social can help you get the sale, figure out how to leverage it throughout the relationship with your audience and customers to make them brand advocates for life.
Build and Embrace a Dedicated Social Community
The businesses that win in social media aren't only those with flashy designs, sharable content and access to celebrities. Those kinds of social efforts often dry up as soon as the budget is gone.
The successful businesses are growing a dedicated and passionate social community. These businesses truly believe that people are always the product, and their business is what allows them to continue to reach people and potentially change lives.
When your business embraces fans through your social community, you have advocates who will support your business for life, and enable you to reach even more people.
It's a competitive market out there so let REVStaffing get you ahead of the game. Start preparing now.
Call REVStaffing today at 855-738-7821 or visit our website at www.revstaffing.com.
If you would like to discuss any possibly need you may have and would like REVStaffing's assistance, click here to schedule an appointment.