Most everyone who is in real estate already has an Instagram account and use it in their business to some extent. If you haven't you may want to look at opening an account to showcase your listing and highlight your neighborhoods. Once you start using Instagram you can link it to your other online marketing materials this will show prospects your social media savvy.
There also are other Instagram apps that can make the photo-sharing social media platform more fun and interesting.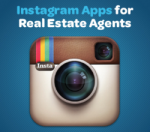 Ok so what are Instagram Apps?
They are standalone apps that will help you interact with Instagram in new and exciting ways. They can help you take more attractive pictures, add text to your images before posting and even make videos using your photos. There are a lot of Instagram apps out there and many of them are free to download.
Here are 3 apps that you may want to look into to help you with your real estate social media business:
Flipgram
The first is Flipagram, it is an app that allows you to create videos from your favorite photos and set them to music, too. It's a great way to "flip" through some of the best houses for sale in your area, great restaurants in your neighborhood or pictures of amazing gardens in your town.
Afterlight
For an easy to use photo editing tool look no further than Afterlight. With this Instagram app, you can crop photos, clarify your images and enhance pictures with after effects like filters and textures. You can also add borders to horizontal and vertical photos that will make them work with Instagram's square format.
Pic Stitch
The last app is Pic Stitch, with this app, you can combine multiple photos to make a photo collage for Instagram. Pic Stitch is great for "stitching" together photos of different rooms in a new listing or pictures from a neighborhood event. You can also share your Pic Stitch pics on Facebook and Twitter or order prints!
There are a lot of Instagram apps out there and these are just a few for you to check out to see if they will help you in your real estate business.
Need help staying in contact with all the leads that are coming your way? REVStaffing can gladly assist you with those tasks! Let REVStaffing help you to achieve your goals and increase your potential! Complete a complimentary needs analysis survey, send us an , or call 855.REVS.VA1 (855-738-7821) today!